MAZE THE FORCE BE WITH YOU - AMAZING FIELD TRIBUTE FOR STAR WARS 40TH ANNIVERSARY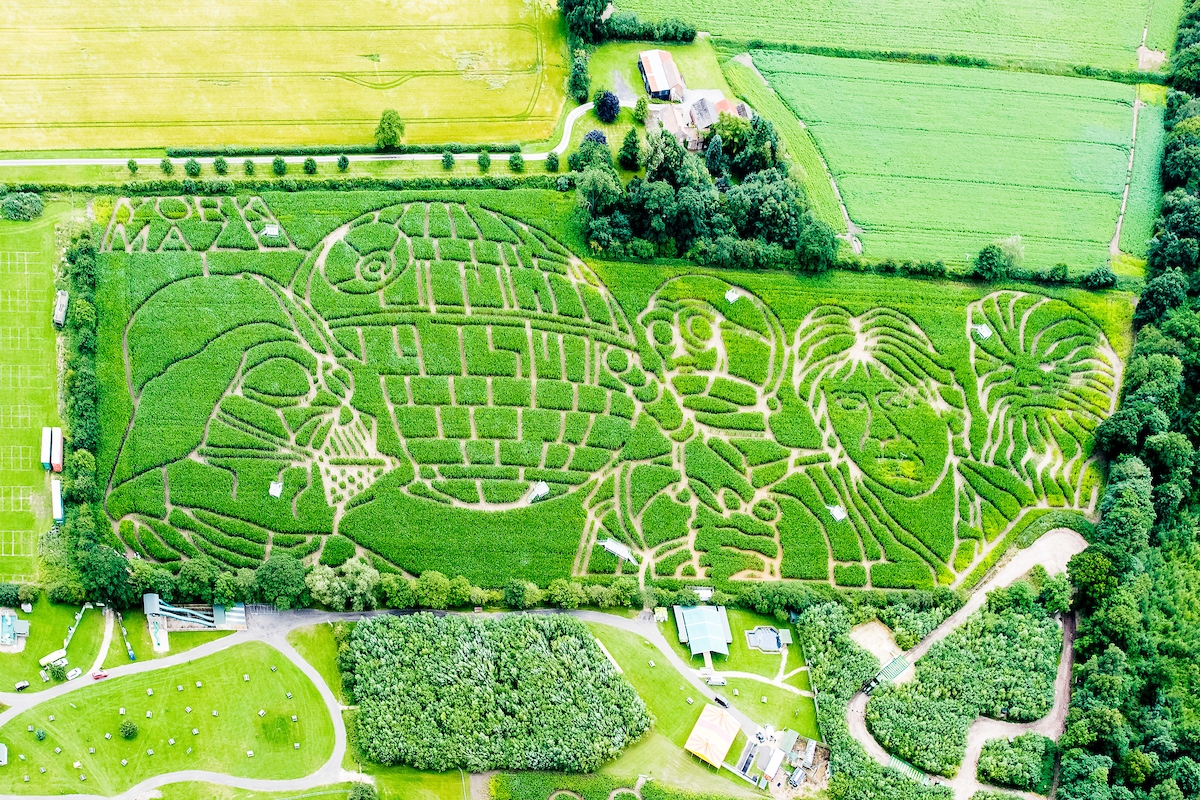 In a maize field far, far away, farmer and Star Wars fan Tom Pearcy has carved a giant image of some of the original Star Wars characters into his field of maize plants near York to mark the 40th anniversary of the iconic film franchise. Covering an area of over 15 acres the York Maze is believed to be the world's biggest Star Wars fan art ever created, as well as being a maze for visitors to get lost in.
Says Tom Pearcy, "As a child I was captivated by the Star Wars story George Lucas created, and wanted to do something out of this world to mark the 40th anniversary. There are so many iconic characters featured in the movies, but there just isn't space in my maize field to feature them all! One of the hardest decisions in designing the maze, was who to leave out."
The York Maze design features the images of Darth Vader, Han Solo, C-3PO and Chewbacca. It also includes an image of the Death Star. The pathways in the field form an intricate maze for visitors to explore. The York Maze is believed to be the largest maze in Europe and one of the largest in the world.
Star Wars fans turned out in force, and in costume, for the launch of the Star Wars tribute maze and were first to get lost in the passageways. Darth Vader, several Imperial Storm Troopers, Princes Leia, Chewbacca and even C-3PO and R2D2 found themselves lost amongst the miles of maze pathways that make up the York Maze.
The York Maze Star Wars 40th Anniversary tribute maze is open for visitors to explore this summer from Saturday 15th July to Monday 4th September 2017, when the maize will be harvested and fed to the cows. For details of opening times visit www.yorkmaze.co.uk. 
ENDS
Editors Notes
Star Wars
A long time ago, in a movie theatre far, far away, "Star Wars: Episode IV – A New Hope" premiered in the USA on 25 May 1977, though UK audiences had to wait another six months to feel the power of the force.
With recent releases in the franchise and more films to come, the original 1977 cast are still as popular as ever, driven by the marketing power of Disney who purchased the Star Wars rights from Lucasfilm in 2012 for a reported $4 billion.
Celebrations to mark the 40th anniversary are taking place throughout the world, during 2017 with The Royal Mail releasing a set of Star Wars 40th Anniversary stamps.
York Maze
York Maze covers 15 acres (8 football pitches) in size and is thought to be one of the biggest mazes in the world.
As well as the giant maize maze York Maze offers families a full day out with over 20 other rides attractions and shows. Additional activities at York Maze include: Crowmania tractor trailer ride, giant sand and water play area, water wars game, jumping pillow, Professor Pearcy's Crowbot show, Corn Snake Tower slides, maze of illusions, House of Cornfusion, crazy-mazy golf, pig racing, shop, café and BBQ.
Farmer Tom Pearcy's previous York Maze designs:
2002   Viking Longship
2003   Spiders Web
2004   Flying Scotsman
2005   Big Ben
2006   Star Trek
2007   James Bond
2008   Statue of Liberty
2009   Astronaut
2010    Spitfire
2011    Harry Potter
2012   Mayan God of Corn
2013   Dalek & Doctor Who
2014   Yorkshiremen – Brian Blessed, Geoff Boycott & Jeremy Clarkson
2015   Thunderbird 2
2016   Roald Dahl characters
Open daily from Saturday 15 July to Monday 4 September 2017 from 10am to 6.30pm (last admission 4.30pm). 2017 on the door admission prices: Adult £15.50, Senior £15.00, Children (3-15) £14.50, Under 3s Free, Family (2 adults and 2 children) £58.00. Book online in advance and save £1 per person or £5 off a family ticket. See www.yorkmaze.co.uk. York Maze Elvington Lane (B1228), York, YO19 5LT, just off the A1079 Hull Road. Free parking. Telephone: 01904 607341.