GIANT MAZE CELEBRATES ROALD DAHL CENTENARY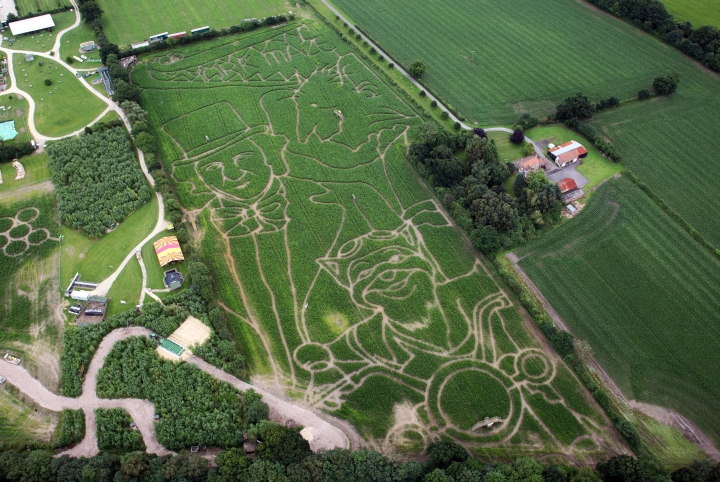 Roald Dahl fan and farmer Tom Pearcy has carved a giant image featuring some of the famous children's author's iconic characters into a 15 acre field of maize plants near York to create a giant maze. The York Maze celebrates 100 years of Roald Dahl who was born in 1916.
Says Tom Pearcy, "Roald Dahl's stories speak to the child in us all and are loved by children, parents and grandparents. Throughout 2016, there will be celebrations for Roald Dahl 100 around the UK but I wanted to pay my own special phizz-whizzing tribute to the amazing storyteller."
The York Maze design is a montage of Roald Dahl characters and features a depiction of Gene Wilder as Willy Wonka. Other Roald Dahl characters hidden in the maze include; The BFG, The Fantastic Mr Fox and the Enormous Crocodile. The pathways in the field form an intricate maze for visitors to explore. The York Maze is believed to be the largest maze in Europe and one of the largest in the world.
"Willy Wonka is definitely my favourite Roald Dahl character," says Pearcy, "he is an adult but still has childish qualities, incredible curiosity and excitement. He relishes nonsense and reminds us that life is fun and we shouldn't forget it. Much of what we aim to achieve here at York Maze."
Guest of honour to officially launch the maze was British actress Julie Dawn Cole who played Veruca Salt alongside Gene Wilder in the 1971 film 'Willy Wonka and the Chocolate Factory'.  Julie took a helicopter flight over the giant 15 acre maize maze to see the design.
Says Julie Dawn Cole, "It's an amazing site, to soar above the maze and see the detail that has gone into the design. They have captured Gene Wilder's Willy Wonka image very well. It is such a bonkers thing, it's almost something that Willy Wonka could have dreamed up himself. Veruca would no doubt be demanding one of her own! I think Roald Dahl would have been amazed to see it."
The York Maze in tribute to Roald Dahl 100 is open for visitors to explore this summer from Saturday 16th July to Monday 5th September, when the maize will be harvested and fed to the cows. For details of opening times visit www.yorkmaze.co.uk.
ENDS
Editors Notes
Roald Dahl
Roald Dahl was one of the greatest storytellers for children of the 20th century and in 2000 was voted the nation's favourite author. Born in Cardiff on 13 September 1916 and died on 23 November 1990 at the age of 74. He wrote many of his stories at his home in Great Missenden, Buckinghamshire.
Dahl's works for children include James and the Giant Peach, Charlie and the Chocolate Factory, Matilda, The Witches, Fantastic Mr Fox and The BFG. He also wrote macabre short stories for adults including Tales of the Unexpected which was adapted to a successful TV series. Dahl wrote screenplays for the James Bond film You Only Live Twice and Chitty Chitty Bang Bang.
Julie Dawn Cole
Born in Guilford Surrey, Cole was 12 when she played spoiled little girl, Veruca Salt, in the 1971 film Willy Wonka & the Chocolate Factory. She went on to appear in a number of TV series including Angles, Poldark and Emmerdale and in films including That Lucky Touch (1975) starring Roger Moore, and the 1984 TV film of Camille, starring Greta Scacchi and Colin Firth. Cole now has a career as children's services manager for The Fountain Centre, a cancer support service at the Royal Surrey Hospital.
York Maze
York Maze covers 15 acres (8 football pitches) in size and is thought to be one of the biggest mazes in the world. The Roald Dahl 100 tribute maze includes images of Willy Wonka (Gene Wilder), The BFG, Fantastic Mr Fox and the Enormous Crocodile.
As well as the giant maize maze York Maze offers families a full day out with over 20 other rides attractions and shows. Additional activities at York Maze include: Crowmania tractor trailer ride, giant sand and water play area, water wars game, jumping pillow, Professor Pearcy's Crowbot show, Corn Snake Tower slides, maze of illusions, House of Cornfusion, crazy-mazy golf, pig racing, shop, café and BBQ.
Farmer Tom Pearcy's previous maze designs:
2002   Viking Longship
2003   Spiders Web
2004   Flying Scotsman
2005   Big Ben
2006   Star Trek
2007   James Bond
2008   Statue of Liberty
2009   Astronaut
2010   Spitfire
2011   Harry Potter
2012   Mayan God of Corn
2013   Dalek & Doctor Who
2014   Yorkshiremen – Brian Blessed, Geoff Boycott & Jeremy Clarkson
2015   Thunderbird 2
Open daily from Saturday 16 July to Monday 5 September 2016 from 10am to 6.30pm (last admission 4.30pm). 2016 on the door admission prices: Adult £14.50, Senior £14.00, Children (3-15) £13.50, Under 3s Free, Family (2 adults and 2 children) £54.00. Book online in advance and save £1 per person or £5 off a family ticket. See www.yorkmaze.co.uk. York Maze Elvington Lane (B1228), York, YO19 5LT, just off the A1079 Hull Road. Free parking. Telephone: 01904 607341.
For further press information & photographs please contact:
David Leon, Partners Leisure, Tel: 01904 610077 Email: david@partners-group.co.uk