EUROPE'S BIGGEST MAZE TO CELEBRATE MR.MEN LITTLE MISS 50TH ANNIVERSARY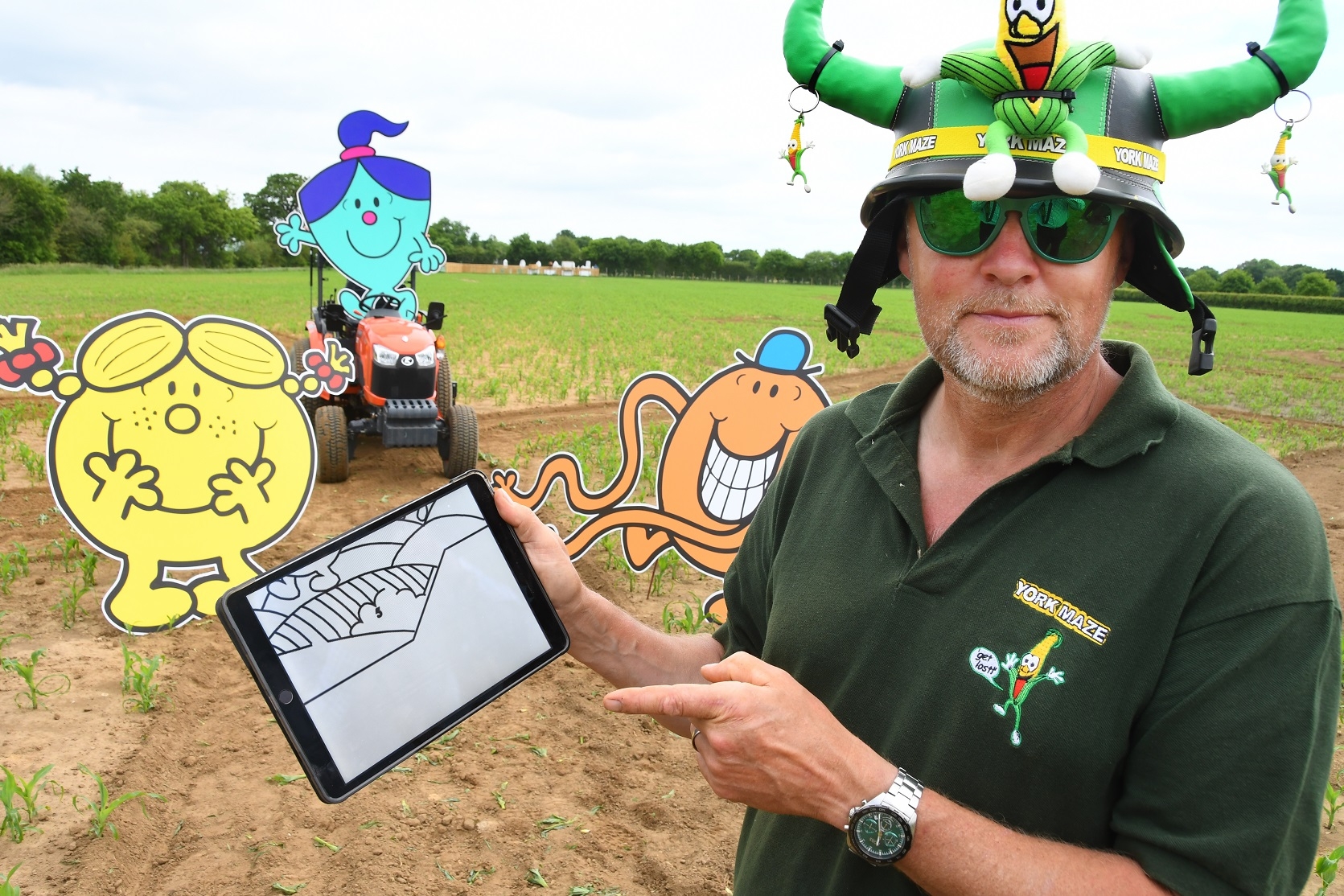 A giant maize maze in York, England, will be celebrating the 50th anniversary of Mr. Men Little Miss when it opens to the public in July.
Farmer Tom Pearcy has cut out over 5 km of pathways in his 15 acre field of over a million maize plants. When the crop is fully grown by mid-July the maze of pathways will form an image when viewed from the air, a bit like crop circles.
Says Tom Pearcy, "We use GPS technology to plot the pathways and cut them out when the maize plants are only a few centimetres tall. It is nerve wracking because I can't tell if we've made a mistake and put a path in the wrong place until the maize plants are fully grown."
York Maze have teamed up with Mr Men and Little Miss to celebrate the 50th anniversary of the popular children's literary and TV characters.
Alastair McHarrie, Licensing Director at Sanrio, comments: "The Mr. Men Little Miss 50th Anniversary has really struck a chord with the public.  Parents and grandparents who grew up with the stories are now re-discovering their favourite characters alongside their children and grandchildren.  Celebrations so far this year have included Mr. Men Little Miss 50th anniversary coins from the Royal Mint and two new characters chosen by our fans, Little Miss Brave and Mr. Calm. We can't wait until July when the Mr. Men Little Miss 50th Anniversary Maze design will be revealed."
The Mr. Men Little Miss 50th Anniversary Maze will open for visitors to explore from 17th July to 6th September 2021 when the crop will be harvested. Visitors will have to navigate the maze of pathways to find the Mr. Men Little Miss characters. Find all the characters and you could win a prize. For details of opening times visit www.yorkmaze.co.uk.
ENDS